---
Concrete plant Mikulov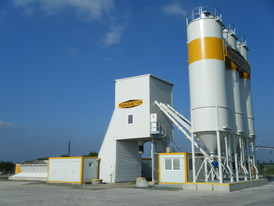 Sale of concrete for Mikulov and its environs.
Concrete for your construction site incl. transport and pumping.

Horizontal batching plant of the Merko HBS 2,0 DKXS type with the performance of 75 m³ of fresh concrete per hour, 5-chamber buried in-line aggregate hopper and cement management for storing 4 types of binding agents. Year-round automated computer-controlled operation. The batching plant is equipped with a mixing water heating device for winter period. The batching plant also comprises a recycling facility to process residual concrete. The batching plant offers the concrete supplies in concrete truck mixers on a volume of 5 and 9 m³ (off-road concrete truck mixers on a volume of 5 m³ are also available), pumping concrete with mobile pumps with ranges up to 47 m or pumping concrete with stationary pumps.
Plant
Pod Nádražím, 692 01 Mikulov
Opening hours:
Mon - Fri 6.30 a.m. - 3.30 p.m.
Sat, Sun, bank holidays upon agreement
Plant management, requests
Orders of concrete – dispatching
Technologist and quality manager
Request / question for the concrete plant Mikulov