---
Concrete plant Přerov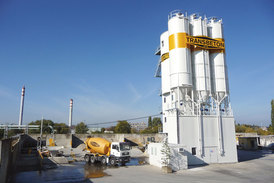 Sale of concrete for Přerov and its environs.
Concrete for your construction site incl. transport and pumping.

Tower batching plant of the MERKO V 1,5 D type with the performance of 75 m³ of fresh concrete per hour, 4-chamber tower aggregate hopper and cement management for storing 4 types of binding agents. Year-round automated computer-controlled operation. The batching plant is equipped with a mixing water heating device for winter period and the tower aggregate storage bin is heat-insulated. The batching plant also comprises a recycling facility to process residual concrete. The batching plant offers the concrete supplies in concrete truck mixers on a volume of 5 and 9 m³ (off-road concrete truck mixers on a volume of 5 - 6 m³ are also available), pumping concrete with mobile pumps with ranges up to 47 m or pumping concrete with stationary pumps.
Plant
Tovačovská 3376/2e, 750 02 Přerov
Opening hours:
Mon - Fri 6.30 a.m. - 3.00 p.m
Sat, Sun, bank holidays upon agreement
Plant management, requests
Ing. Dalibor Janků
Commercial and operation manager
Mobile: +420 602 705 350
prerov@transbeton.cz
Pavel Bradáč
Deputy plant manager
Mobile: +420 737 266 432
Orders of concrete – dispatching
Technologist and quality manager
Request / question for the concrete plant Přerov