---
Concrete plant Kopřivnice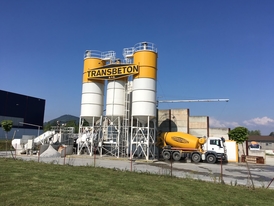 Sale of concrete for Kopřivnice and its environs.
Concrete for your construction site incl. transport and pumping.
Batching plant of the CE 55 type with the performance of 40 m³ of fresh concrete per hour. Year-round automated computer-controlled operation. The batching plant is equipped with a mixing water heating device for winter period. The batching plant also comprises a recycling facility to process residual concrete. The batching plant offers the concrete supplies in concrete truck mixers on a volume of 5 and 9 m³ (off-road concrete truck mixers on a volume of 5 m³ are also available), pumping concrete with mobile pumps with ranges up to 47 m or pumping concrete with stationary pumps.
Plant
Panská – TATRA grounds (at the gate no. 6), 742 21 Kopřivnice
Opening hours:
Mon - Fri 6.30 a.m. - 3.00 p.m.
Sat, Sun, bank holidays upon agreement
Plant management, requests
Ing. Dalibor Janků
Commercial and operation manager
Mobile: +420 602 705 350
koprivnice@transbeton.cz
Lubomír Málek
Deputy plant manager
Mobile: +420 737 266 418
Orders of concrete – dispatching
Technologist and quality manager
Request / question for the concrete plant Kopřivnice